BlueLine Professional Overdrive

An unbelievably versatile vintage Marshall BluesBreaker/JTM-45 style overdrive
with features including HIGHER GAIN, HIGHER OUTPUT VOLUME, and CLEAN BOOST MODE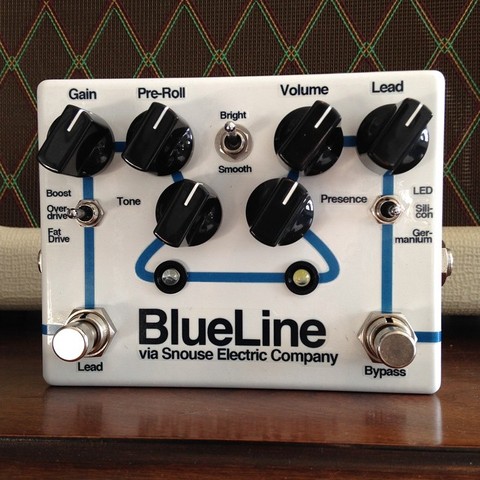 HANDCRAFTED FOR BEAUTY, FLEXIBILITY, AND ULTIMATE CONTROL

The BlueLine Professional Overdrive blows the original BluesBreaker out of the water, with unique features that give you much more tonal flexibility, variability, and control. 100% analog circuitry with 3 clipping diode options to explore - wild, glassy and dynamic Light-Emitting Diodes; silky smooth Silicon diodes; or light, tight and organic new old stock Germanium diodes in an asymmetrical configuration - that, in addition to an interactive tone section, introduce singing harmonics that shine through natural compression for a beautifully complex, notably tube-like color, with the delicate, detailed feel, touch-sensitivity, clarity, and dynamic response of a vintage JTM45 amplifier.

Shape your tone before, after, and at the clipping circuit. Keep it bright to summon Clapton, heat things up with Fat Drive mode & add a subtle smudge of low end by turning back the Pre-Roll to channel Jimi, or use Clean Boost mode and kick up the Presence to call up SRV and push your amp to do the dirty work. Drop the Pre-Roll all the way down for instant "Woman" tone. Or, set the Pre-Roll to to 10 and the BlueLine reverts to the original BluesBreaker circuit with a hotter output - Yes, the original circuit is hiding inside. You won't find another overdrive this beautiful or versatile, anywhere. Each BlueLine takes over 12 hours to complete, is individually numbered, signed, and is guaranteed to stand all the rigors of a life with the blues with a 2-year warranty.
---

TONE SETTING DEMO PLAYLIST
In the video to the right you can hear the BlueLine at the following settings:

Clean tone (no effect) 1:25
Silicon Overdrive, Pre-Roll down 1:37
High Voltage Led Hard Rock Tone 2:19
SLOWHAND BLUES OVERDRIVE 2:42
Smooth Germanium Overdrive 3:10
Bright Silicon Open Blues Tone 3:36
Edgy Silicon Fat Overdrive 3:58
---
THE PRE-ROLL KNOB
The innovative Pre-Roll knob allows you to adjust the tone of the guitar before it gets to the clipping stage.

Normally, an effect's Tone knob affects the circuit after the clipping stage. So while you roll off the higher frequencies on your pedal with the Tone knob, you take some of the sweetness of the clipping itself with it. Since a good overdrive pedal is meant to emulate the sound of a high-quality tube amp at its breaking point, this method of shaping the post-clipping tone, although very functional in its own right, attenuates the tone in an "unnatural" way that does not very well simulate the gain staging of a real amp - you don't EQ what comes out of your speakers, you EQ what goes into your power amp.

The Pre-Roll knob allows you to shape your tone before sending your signal to the clipping stage, preserving more of the harmonics and tone of the clipping itself. Turning this knob counter-clockwise will very gradually begin to roll off your high end and increase your low- and mid-frequencies, giving you a warmer, punchier sound, while allowing the harmonic character of the clipping itself to shine through. As it gets further down, it introduces what may be described as a "half-bucker"-type tone from single coils - a very unique sound, which you can hear in the sound clips below.

---

FAT DRIVE
The original BluesBreaker was a low-gain pedal. When that's not enough, flip the Fat Drive switch on the BlueLine Express for higher gain - thicker, creamier drive with earlier breakup, slightly more natural compression and smooth sustain.

---

TONE SECTION: SHAPE YOUR TONE IN THREE PLACES
Control your tone before, after, and at the clipping stage.

The tone section is remarkably interactive, allowing you to mix a vast array of colors. It's not just black and white anymore.

BRIGHT/SMOOTH SWITCH
The Bright/Smooth switch mainly affects the texture and character of the clipping itself. Keep it bright for a crisp bite, or flip to Smooth mode to round out the peaks of the clipping, and make your overdrive a little warmer.

PRESENCE CONTROL
The Presence control could also be called a LIFE knob, or a BITE knob. This control will give a really meaty, percussive edge to your tone that's chunky, and not piercing. It adds a harmonic crispness that opens up your entire rig. Almost like a refreshing Altoid for your amp. The taper is sensitive - a little goes a long way - for a wide range of possible color.

The Tone and Presence knobs affect the signal post-clipping. Use them to adjust the tone of both your guitar signal AND the clipping.

Altogether, this gives you control of your tone in all three places: before the clipping stage with the Pre-Roll; at the clipping stage with the Bright/Smooth switch; and after the clipping stage with the Tone and Presence knobs, giving you the most detailed and personal control of your overdrive tone. The unique and interactive tone circuitry works together with the switchable discrete clipping stages (LED, Silicon, and Asymmetrical Germanium modes) and the tone knob on your guitar to give you a range of tones so wide, hardly any two BlueLines need sound alike. The BlueLine was designed to help give you a musical fingerprint, and help you get closer to what you hear in your head - your signature tone.

FEATURES

100% Analog Circuitry
Three switchable gain modes: Normal Overdrive, Fat Drive (a slightly bigger, higher-gain overdrive that breaks up sooner) and Clean Boost mode

Three switchable discrete clipping stages for different clipping characters: LED, Silicon, and Asymmetrical Germanium

Bright/Smooth clipping switch to shape the texture of your clipping

Enhanced low end throughput for a more transparent tone

Enhanced tone circuit with Tone and Presence knobs

Foot switchable post-gain lead boost with dedicated volume preset

"Pre-Roll" knob (see below)

Increased output volume with our JFET makeup gain section for miles of headroom and extra tube warmth

High-quality, audio-grade and new old stock (NOS) components, including Xicon metal-film resistors, Alpha pots, NOS germanium diodes, Nichicon electrolytics and NOS Panasonic ECQ poly-film capacitors

Enhanced power filter section to eliminate DC noise

Diecast aluminum enclosure

Meticulously hand-lain decals

Powered by standard Boss-style 2.1mm 9-18V DC regulated power adapter or a 9V battery

Battery disconnection when cable is removed from input jack to save power
---
SAMPLES AND SOUND CLIPS
Below are some clips going head-to-head with the original Marshall BluesBreaker,
using a vintage Strat in the neck position. The settings are at extremes so that they're not approximated.


To start off, here is a demonstration of what the Pre-Roll knob can do for your tone.

First, you'll hear one chord on the original BluesBreaker, Gain at 10, and Tone at 0.

Then you'll hear one chord on the BlueLine, Gain at 10 (on regular overdrive mode), Tone at 10, and Pre-Roll at 0.

After that, we'll switch back to the BluesBreaker for a short riff.

Then back to the BlueLine for the same riff.

Note the skinnier, darker and almost muffled sound of the BluesBreaker, while the BlueLine allows the harmonic character and clarity of the clipping to shine. Only the tone of the guitar signal is rolled off. A very unique tone. From here, you can adjust the roundness of the clipping with the Smooth switch, and you can adjust the tone of the entire signal by rolling back the Tone knob.

If you want that darker "stock" tone sometimes, no problem. The BlueLine can do it.

In the first clip you heard, only the Pre-Roll knob was all the way down; the Tone was still at 10. So we still have the flexibility to use that Tone knob to roll off the entire signal (guitar and clipping together).

This time, first you'll hear a riff with same same settings on the original BluesBreaker as last time (Gain at 10, Tone at 0).

Then, you'll hear the BlueLine with the Gain at 10, Tone at 0, and Pre-Roll at about 5 (12 o'clock).

Note that the Pre-Roll set at 5 fattens up the low end. Setting the Pre-Roll at 10 converts the circuit back to "stock" BluesBreaker configuration.
---
LETTERS FROM GUITAR PLAYERS
Here's what other guitar players have to say about the BlueLine Professional Overdrive.


"I just wanted to email and say how good your Blueline pedal sounds! I have an old large-box Marshall Bluesbreaker pedal and as good as it sounds, the Blueline is even better."
- Steve, Texas




"In all honesty, in 10-15 years I could easily see this pedal being the equivalent of today's original Klon Centaur or original TS9...in terms of "value.". Particularly if this pedal falls into the right hands. In my personal opinion, it's a matter of time before the "right" person runs across it. I'm absolutely glad I've got one! I am very seriously considering buying a second. If you continue to turn out such a well built quality pedal, you'll no doubt gain a loyal following, and...sad as I will find it...you'll be able to fetch much more cash for your work.

I can't get over the crazy tonal/boost/distortion range of this pedal...and the transitions are soooooooo smooth between. The harmonics...sooooooo rich. This is EXACTLY what I needed in line with '57 classic humbuckers and a 5 watt tweed champ clone.

In the first 5 minutes of playing with the pedal I knew the price I paid did not reflect the value of the pedal; not by a long shot. Not sure how long you've been doing this, or what your experience is in electrical work, but the guts of this pedal are beautiful. The soldering is the best I've seen. I'm telling you, stick with this. Analog Man, Keeley and Barber...all started from humble beginnings. And to be honest, between you and I, this pedal rivals anything those guys are putting out. I've been through nearly every Barber pedal made... only one I still have in the stable is the original LTD and I'd give it up in a heartbeat if the choice was against your Blueline. Keeley has turned some pretty average/subpar pedals into "decent" pedals, but nothing close to what you've done with the BlueLine. Analog Man has a cult following. The King of Tone is a pretty nice pedal. I've heard the wait times are ridiculous. The Prince of Tone is pretty nice if you only need that channel. I've never actually played through a King of Tone, but based on pro players that use them, and various sound clips I've heard, I'd take this pedal over a KOT."
- Chris, North Carolina




"The BlueLine came in last night. I can't quite put my reaction into words. To put it simply, you've ended my ever long quest for tone. The blueline overdrive is the last overdrive I'll ever buy! You've blown me away with this pedal and surpassed by my expectations! This pedal is going down in history my friend! I feel like I own a precious metal or something super rare to mankind! I've gone through countless of overdrives. From Bk Butler, boss Od3, fulltone OCD versions 1,2,3. A couple Klon Clones. the KING OF TONE! A blues breaker clone! Needless to say, your pedal blows all of them out of the water! IMO. I know those pedals are very different beasts, but I don't think any of them truly capture the essence of what an overdrive actually means! I don't know man, job well done! You fuckin rock! This is going to be my favorite pedal for a very long time."
- Channing, CA




"It's been 2 weeks for me to play around with this thing. I played out with it once so far. Kudos. So far my experience has been very positive - it seems to do everything you said it does. It has all the characteristics of a warm vintage Marshall, and can also take on more modern character by adjusting the Pre-roll, tone, fat boost, and LED clipping modes. I've been using a Keeley mod'd TS9-DX and I have them side-by-side on my board right now - and I'm liking the BlueLine. I think my TS9's days are numbered...I'm a fan! Thanks for the great pedal."
- Ken, Michigan





"Just letting you know I received both pedals and that myself and the other guitarist in my band are very impressed. The Blue line is very transparent for mine and I've now got a overdriven rhythm sound with plenty of grunt and clarity... the settings allow very flexible tone control with any amp and it has cemented a spot on my pedal board. Was using it today with a Fender Deluxe Reverb and it sounded pretty amazing - in open G with a tele and standard tuning with a vintage epiphone wilshire - I didn't want to stop playing. I have been using a tube screamer for 20 years...the blue line is much better, doesn't have the harsh/distorted top end."
- Stew, Australia

"My Blueline arrived today and I'm gigging with it tomorrow. I will have a more complete tale to tell later but the two and half hours I spent today with one of my Strats and the stock 75 Deluxe Reverb has me convinced that this is the missing link I have been searching for. I have owned or played through a bunch of high-end boutique pedals and also some of the classic's from yesteryear (I'm old!) and this has that 'thing'....whatever that is!

I looked inside and you are a complete craftsman. Good job! I have a Custom -built Conrad Amp. Its a 5E3 circuit clone with an active loop. Conrad has been building amps since the 60's. His brother and he started a little company called Sunn amplification back in the day. The point is HE builds stuff in an artistic and high level craftsman way so I am a serious appreciator of this level of construction."

"I am seriously loving this Blueline pedal. I went to a local blues jam that I frequent last night and only used the Blueline through my custom built Conrad Tweed Deluxe and my beloved late eighties Jap Strat. I simply set it to the sound I wanted, pushed the lead boost to 'on' and used the volume control on the guitar for everything.
First thing is this….the amp has that warm clear sound the 6V6 powered 5E3 Fender circuit gives, and with additions like really great wire and his expertise at these things, the amp is sweet and as sensitive as it comes. I'm a big fan of amps that give you the ability to be dynamic with your attack and the amp is RIGHT THERE responding to your every move and nuance.

So, last night I found the sound I have been searching for. No effort other than me playing. Your pedal delivers everything anyone could ever want and it does it without destroying the values of the great amp response I was already getting and added that flavor which brought it up the last few notches. All the articulation was there, all the depth, in short a Joy to play through.

I could probably sell 10 of these things !!! But I'm not in that business. Be assured that all my guitar playing friends (there's a bunch of em!! I own a recording studio.....) Are gonna want to know about this thing. I don't know if any of these have been sold in the Portland Or area, but they're gonna be popular once the word gets out."
- David, Oregon


---




The BlueLine includes a 2-Year Limited Warranty.





---