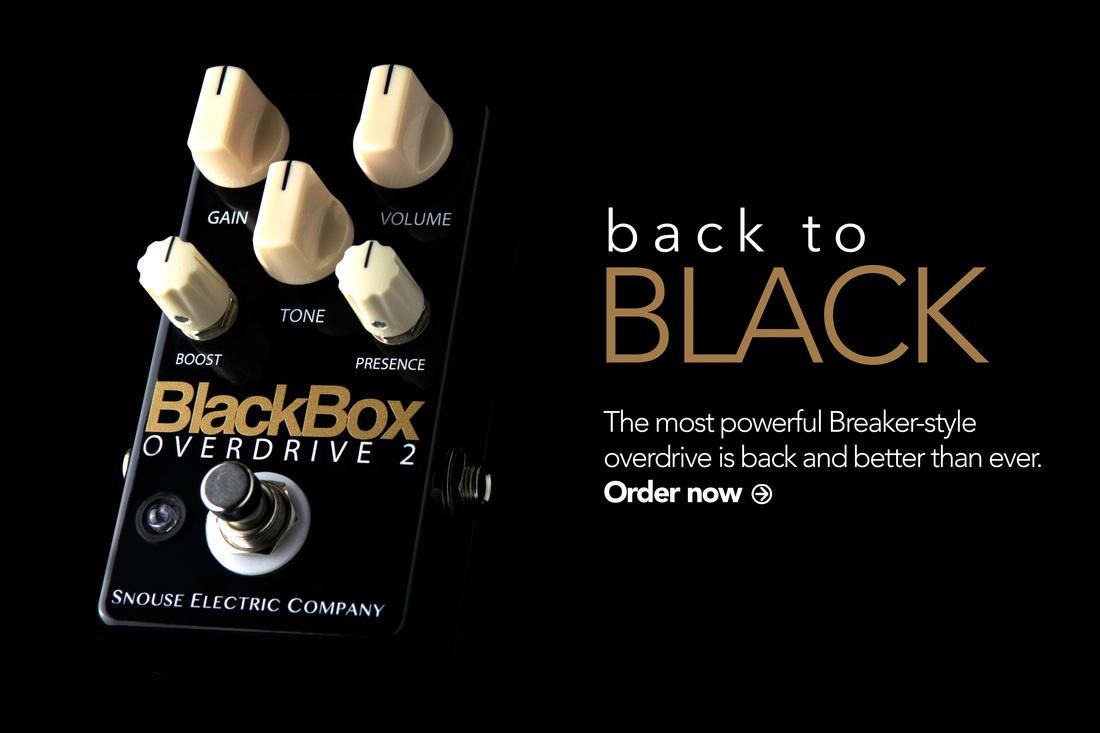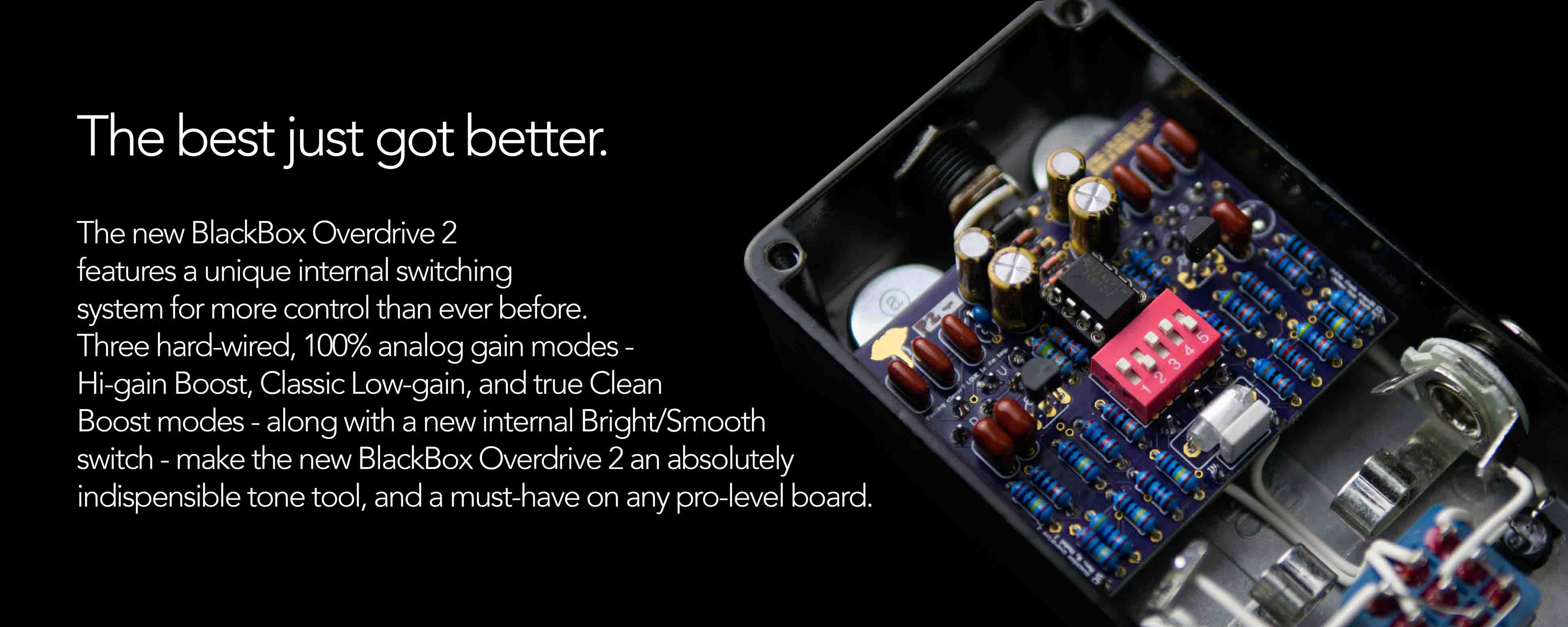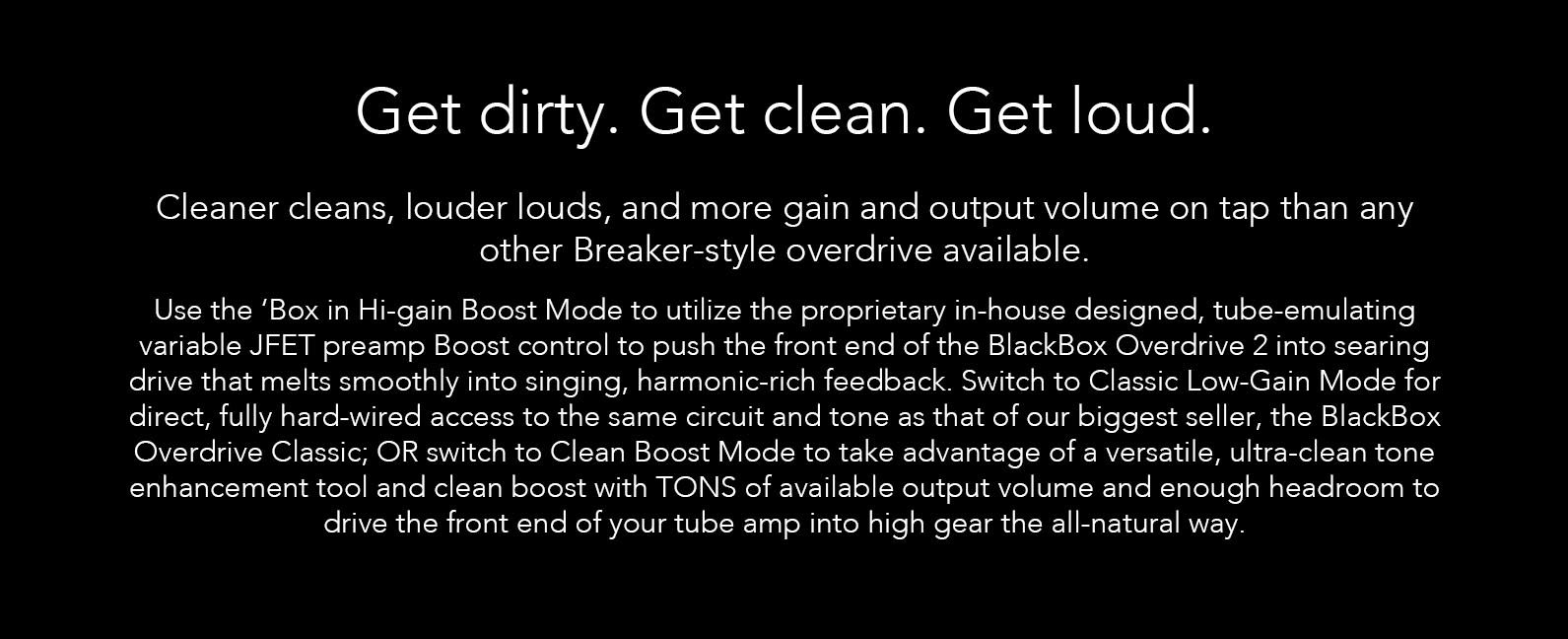 FEATURES
• Unique internal tri-mode switch makes it THREE pedals in one - a pre-gain boosted Hi-Gain overdrive; our Classic Lo-Gain overdrive; and a TRUE Clean Boost
• Carefully and beautifully hand-wired in the USA - no cheap Chinese manufacturing
• Gain, Tone, Presence, Volume, and pre-gain Boost controls, plus internal Bright/Smooth Voicing switch
• True-Bypass switching for complete bypass transparency
• Absolute top-quality components, including Alpha potentiometers, Neutrik jacks, Xicon metal-film resistors, Nichicon electrolytics and Panasonic ECQ poly-film capacitors
• Military-grade 24 AWG stranded wire for durability
• Davies-style molded cream-colored knobs
• Top quality US-manufactured matte black and gold PCB
• Socketed op-amp
• Bright (but not blinding) blue LED
• Powered by Boss-style 9-18VDC regulated power supply
• 100% handmade, hand-drilled and hand-wired
• So clean inside ya can lick it! No rats nest wiring in these here boxes!

​
THE BEST JUST GOT BETTER
The new BlackBox Overdrive 2 features a unique internal switching system for more control than ever before. Three hard-wired, 100% analog gain modes - Hi-gain Boost, Classic Low-Gain, and TRUE Clean Boost modes - along with a new internal Bright/Smooth switch, make the new BlackBox Overdrive 2 an absolutely indispensable tone tool, and a must-have on any pro-level board.
CLEANER CLEANS, LOUDER LOUDS, MORE GAIN AND OUTPUT VOLUME ON TAP THAN ANY OTHER BLUESBREAKER-STYLE OVERDRIVE AVAILABLE.
Use the BlackBox Overdrive 2 in Hi-gain Boost Mode to utilize the proprietary in-house designed, tube-emulating variable JFET preamp Boost control to push the front end of the BlackBox Overdrive 2 into searing drive that melts into singing, harmonic-rich feedback. Switch to Classic Low-gain Mode for direct, fully hard-wired access to the same circuit and tone as that of our biggest seller, the BlackBox Overdrive Classic. Or, switch to Clean Boost Mode to take advantage of a versatile, ultra-clean tone enhancement tool and clean boost with TONS of available output volume and enough headroom to drive the front end of our tube amp into high gear the all-natural way. Use the Presence control for that chimey, bell-like Jimi bite without any harshness, and use the internal Bright/Smooth switch to smooth out the drive and fatten your tone, or get some extra spank. From subtle Lenny grit and dynamics, to fiery Voodoo-worthy drive, it's all here in the new BlackBox Overdrive 2.